On Saturday 18 September a keen group of Ivanhoe Rotarians worked together with contractor A-space Australia to dismantle the public playground at Arthur Streeton Reserve in Yallambie and transport the components to temporary storage. Once international shipping resumes, the playground will be sent overseas to be re-assembled for renewed service to a deserving community.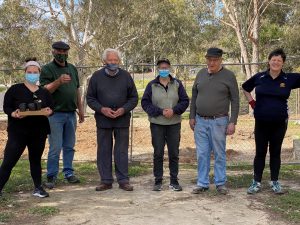 The weather remained fine for completing the work, with a cold front and showers moving in as all the work was completed.
Many thanks to James and his crew from A-space for the dismantling, to our Ivanhoe Rotary Club team (comprising Richard, Aidan, Frances, Beverley, Rebekah, Kevin, Ross and Jeff), and to John Arena for making his yard available as a storage site, and assisting with packing up the pieces for storage. Thanks also to Tylah and the City of Banyule team, for support of the Rotary Overseas Recycled Playgrounds program.