Supporting the Environment
Melbourne Farmers Markets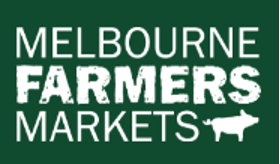 Melbourne Farmers Markets is a not for profit social enterprise dedicated to Victorian food and producers, regional food cultures, seasonal produce, biodiversity, sustainable farming practices and strengthening relationships between the consumer and the producer.
All of our markets are proudly accredited by the Victorian Farmers Market Association.

Please don't forget that all of our markets are plastic bag free. So, get in the swing and BYO!

BYO coffee cup or mug.
Coburg Farmers Market
When:              Every Saturday
Where:             Coburg Primary School
92 Bell Street Coburg, VIC 3058
Time:                8:00 am – 1:00 pm
Cost:                Gold coin donation (by card only)
Carlton Farmers Market
When:              1st Saturday of the month
Where:             Carlton North Primary School
Cnr Canning and O'Grady Streets
Carton North, VIC 3054
Time:                8:00 am – 1:00 pm
Cost:                Gold coin donation (by card only)
Alphington Farmers Market
When:              An event every week that begins at 9:00 am on Sunday, repeating until December 26, 2021
Where:             Melbourne Innovation Centre
2 Wingrove Street, Alphington, VIC 3078
Time:                9:00 am – 1:00 pm
Cost:                Gold coin donation (by card only)
Alphington Midweek Farmgate
2 Wingrove Street, Alphington (opposite the train station)
2:00pm – 5:00pm every Thursday
Collingwood Farmers Market
When:              An event every month that begins at 8:00 am on day 2nd Saturday of the month, repeating until December 11, 2021
Where:             Collingwood Children's Farm
18 Heliers St,Abbotsford, VIC 3067
Time:                8:00 am – 1:00 pm
Cost:                $2.00
Gasworks Farmers Market
When:              3rd Saturday of each month
Where:             Gasworks Arts Park
21 Graham Street, Albert Park, VIC 3206
Time:                8:00 am – 1:00 pm