Another ZOOM only meeting as Melbourne enters its second week of the current Covid lockdown.
Phil is stuck in NSW at his rural property – feeling the cold in his caravan and shed accommodation. Not quite the 50th birthday celebration he had in mind.
Carl bunkered down at Woodend away from the city crowds, and Graham again at his Eildon rural retreat.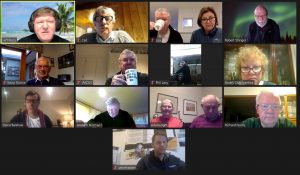 Looks like Jeff and Robert are at exotic locations – courtesy the trickery of ZOOM.
Big congratulations to Peter Harden and partner Madeline who are expecting their first child in January.
President Jeff spoke about our club's 100 Years of Rotary in Australia project. The idea is that individual members produce a short (1 minute) video describing a time in their professional lives when they were involved in something particularly noteworthy and made a difference, and to then reference that event to what Rotary was doing at that same time.
Meanwhile, we await the decision on ending the current lockdown. Looks like our Bunnings BBQ scheduled for Sat 31 July will again be postponed.