We were joined by Sean Ingram, our Club's first Rylarian 14 years ago.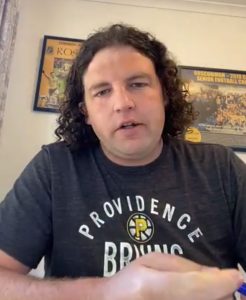 Sean described how he had just finished VCE in 2007 and had little idea what to expect from the RYLA live-in leadership development camp.
A foster child from six months old, Sean told us how he was a very strong-willed 'badly behaved child'. He remembered going for his pre-selection interview with Frances and Aidan, and he knew nothing about RYLA at the time.
His strongest recollections of the camp include a talk by motivational speaker Winston Marsh, who described the 'six P's of success' – 'Proper Preparation Prevents Piss-Poor Performance'. Sean, who at 18 was the youngest attendee, thought it a well-planned program where one's perceptions are challenged. He has strong memories of Linda Gidlind, who is still very much involved in the RYLA program.
Sean Joined Rotaract after RYLA and was a Charter Member of Rotaract Diamond Valley and President at 23.
Sean attributed the beginning of his leadership mindset to RYLA. It gave him the tools to learn how to be an effective leader.
Sean now works at the Victorian Curriculum and Assessment Authority.
Outside his work commitments, Sean is a keen bowls player and is now secretary of Melbourne Bowling Club, the oldest club in Victoria. According to Sean, bowls is an excellent sport that works even if you have injured knees from playing too much AFL.
Thanks Sean for sharing your RYLA experience with us and we wish you every success in the future.