We were joined by Genevieve Speechley, manager of the Livingstone Community Cen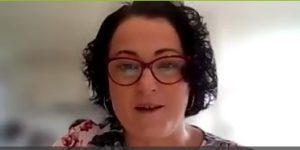 tre in Livingstone St Ivanhoe (opposite Coles). Genevieve has been in the manager role for 2 years, having commenced just as Covid hit.
Started by the Baptist Church 22 years ago, the Centre aims to strengthen the community and provide a safe welcoming place. A number of classes and programs operate from the Centre, one of the most popular being mosaics.
A food relief program operates every Tuesday afternoon, with 25 to 40 households regularly using the service. Shared with Araluen House, supplies come from Foodbank Victoria every Friday and also local traders. Genevieve told us plenty of volunteer opportunities exist in foodbank, gardening, ESL group, Ivanhoe Makers Market, and general maintenance.